The raft is a boat in survival beginnings. It also turns the fastest.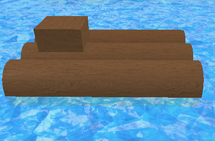 Overview
The Raft is one of the most commonly used vehicle/boat, as it requires only 3 tree trunks to build.It has a distinction from all other vehicles, being that it does not require wood hulls to create. The raft is most common nearby most spawn islands and islands that are inhabited by new players. It is the slowest boat in the game, followed by the sailboat which is the 2nd slowest boat. The Majority of the time, there is at least one raft at an island due to traveling people who may not bother to do anything about them, meaning you can just hop on and sail away. Most experienced players will most likely not mind you "borrowing" their raft as it is very easy to create another.
Ad blocker interference detected!
Wikia is a free-to-use site that makes money from advertising. We have a modified experience for viewers using ad blockers

Wikia is not accessible if you've made further modifications. Remove the custom ad blocker rule(s) and the page will load as expected.