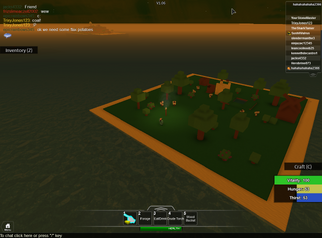 Cotton Island is an Island with a load of cotton on it, it's one of the best spawns for creating a Frigate.
Details
Rather small, but filled with wood, cotton, and other common naturally spawning growth. This is the main source of cotton in the entire game.
Ups and Downs
+ Tons of Cotton
+ Many Materials
+ Berry Bushes
+ Water Source
- A lot of wood (easy to burn)
- Very Small For Tribes
- Very Far Away From Most Islands
Ad blocker interference detected!
Wikia is a free-to-use site that makes money from advertising. We have a modified experience for viewers using ad blockers

Wikia is not accessible if you've made further modifications. Remove the custom ad blocker rule(s) and the page will load as expected.